Back from his three-day cycle trip to Paris, Purely's Managing Director shares his thoughts on the whole experience, the people who made it possible, and tells us what he's got planned next. 
It seems like the summer of 2018 will be forever associated with triumphs across The Channel. Not only did France manage to secure victory in this year's World Cup, but Purely's very own Andrew Edmondson also had something to celebrate whilst visiting the nation's capital; successfully crossing the finish line to a three-day cycle challenge — smashing his fundraising target in the process.
"I'm still buzzing from the whole experience," says Andrew. "I suppose this is how Didier Deschamps probably felt. Well, maybe just a little bit."
Deschamps is, of course, the manager who led France's national team to victory. And just like him, Andrew had his very own winning team in form of Koobr's Craig Barker and Chris Bastock from We Are Ghost.
"We're all Derby companies, so giving back to the community we work in has always been a really big deal for us. Of course, this particular cause was something very personal to me."
You'll probably remember how we sat down with Andrew in the weeks leading up to his challenge to cycle from London to Paris; discussing his motivations for doing so; and raising funds for Derby Hospitals Charity following their suburb care after his heart attack last year.
More than two months later, and not only did the boys manage to cover the distance, they also surpassed Andrew's fundraising target in the process. A phenomenal achievement all around.
"Right off the bat, I've got to thank everybody who supported us: everybody who donated; everybody who sent kind messages of encouragement; and everybody who — in some form or another — dedicated their own time to help us accomplish what we set out to do.
"I also have to give special mention to professional round-the-world cyclist Leigh Timmis, for all his guidance and training in the months leading up to the event. We couldn't have done this without your involvement.
"And finally, I'd like to say a massive Thank You to Phil; our support vehicle and photographer. In addition to patiently trucking around after all of us, he captured some wonderful moments on camera, so we could share the whole experience with everybody right here."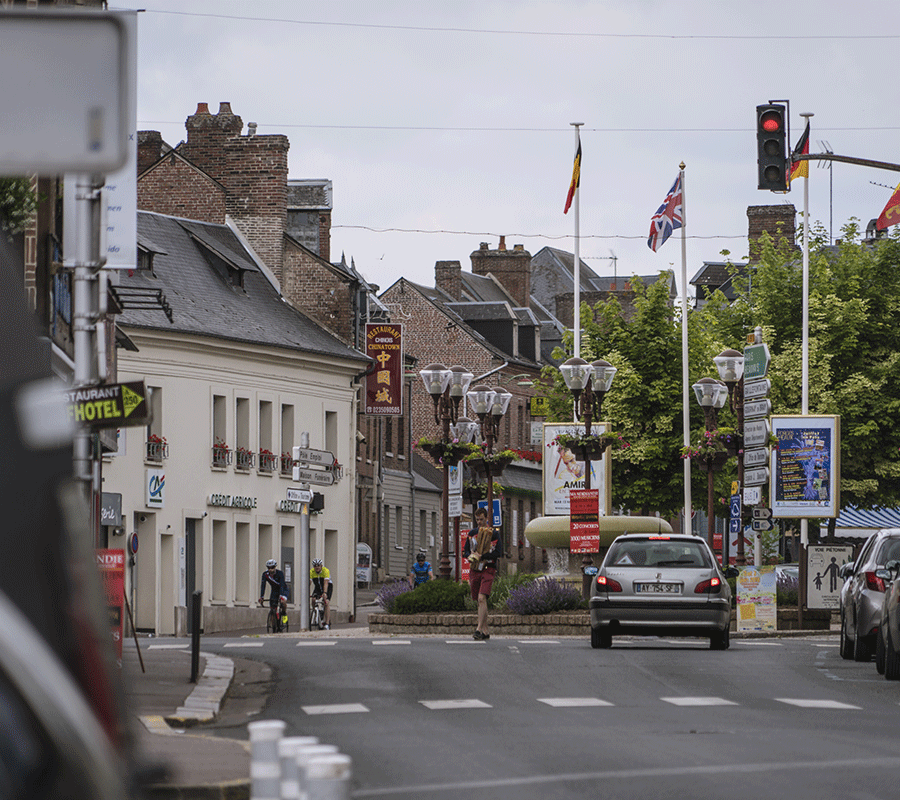 London, Dieppe, Beauvais to Paris
Day One saw the boys depart from London to Newhaven, where the boat was waiting to ferry them all the way to France.
"Anybody who has tried to navigate their way through London traffic will already know it can be a bit of a nightmare," says Andrew. "But when you're racing to catch a Ferry first thing in the morning… well, even Boris Johnson would agree a bike isn't the most practical solution!
Once we were out of the city, however, the rolling country roads definitely helped with getting us back on track. We even made the boat in time for a few drinks to toast the voyage.
Without anymore boats or trains to catch (don't worry, they didn't cycle all the way down to London, in case you were wondering) Day Two was an enjoyable 70 mile ride through the quaint villages and beautiful countryside through Dieppe to Beauvais.
"It was around this time we stopped in a little village called Forges-Let Eaux. Phil had been providing vehicle support the entire time, and he was probably feeling just as fatigued as the rest of us.
"But this brief pause gave us the chance to take in some refreshments, enjoy our surroundings, and even catch some of France's first group match of the 2018 World Cup. What could be more perfect?"
"The final day saw us ride into Paris after 57 miles of smooth cycling, until we hit the city traffic. But we persevered and made it to the Arc de Triomphe, giving us our first glimpse of the Eiffel Tower. Actually getting there, however, was a completely different story.
"It seemed to take a while until we reached our goal, weaving through the tourist and locals, but we eventually made it. That's when it really hit me how far we'd all come.
"I can't really put into words what this journey has meant to me. All I can say is how thankful I am to everybody who was part of it, and how much of an affirming experience this has been.
"More will follow, I'm sure. I've already got a few destinations in mind – and if we can continue to raise even more funds for good causes, well that makes it even more worthwhile."
Tags: Eco, Purely Digital, Purely Digital Eco, Purely Digital Sustainability, Sustainable Printing