About Us
"Of all the media we currently have at our disposal – paper and print is the only one that is naturally three-dimensional, effective at engaging all of our emotional senses" – Royal Mail.
At Purely Digital we're passionate about print and delivering a service that consistently goes above and beyond your expectations. With years of experience you can be assured that no print job, regardless of size or complexity, is beyond our capability. You'll always get an outstanding result. We offer a fast turnaround too, so you'll have the peace of mind that we'll deliver on time no matter what the deadline is.
Using the latest technology we're able to produce vibrantly coloured, highly detailed imagery. Whatever your needs you can be confident that we'll deliver the most accurate, impactful printed materials creating exactly the right first impression for your business. In addition to just printing we offer a huge range of services including binding, gluing, foiling, embossing, varnishing, laminating and personalization – we provide a genuine, single source supply saving you both time and money.
We're really keen to fully understand your requirements. By doing so we're able to work with you collaboratively, providing print solutions that make a real difference. We have an incredibly creative team of designers with the skills and experience to produce high quality, eye-catching artwork that communicates a strong message to your target audience. We've helped our clients time and time again win more new business through creating a unique "wow" factor. We can print onto a wide variety of specialist papers and we've also taken the initiative to insure all our regular substrates are responsibly sourced, where the forests and local environments are cared for. Now with the Premier Paper and the Woodland Trust we capture the carbon emissions from our operations, by the planting of native woodland in the UK. Ultimately, you can be confident that you're dealing with a supplier who's concerned about its impact on the environment.
So, if you'd like your printed items to really impress, please call us on 01332 299553. We'd love to talk to you.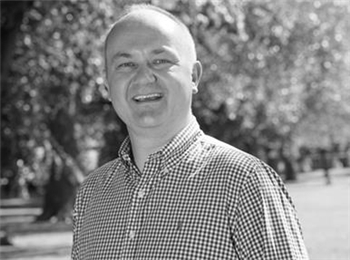 Andrew Edmondson
With a passion for all things print related and over 20 years industry experience.  Andrew is the Managing Director and the driving force behind Purely Digital.  He loves working with clients to understand their needs, providing really creative solutions and delivering a service that goes above and beyond people's expectations.  In his spare time Andrew is a connoisseur of Indian cuisine.
Gary got himself stuck into the print trade since leaving school at the age of 16 & he knows exactly what to look out for when working on the press.  Gary is a complete film buff & a HUGE lover of cars, spending a lot of his spare time modifying his MR2 to perfection.
Gill has worked in various roles within the graphic design / print production environment for 25 years, so has a comprehensive knowledge of most areas in the industry.   Gill's excellent communication and multitasking skills enables her to handle the collection of finances and the resolution of account queries by building and maintaining close links with all of our customers.
Position:
PrePress Coordinator
Jodie has a keen eye for detail, all round technical skills and is a great problem solver. Jodie has always had a love for anything creative, which makes her ideal for her role as pre press coordinator.  Jodie has recently started spending most of her spare time working out in the gym & trying to get the rest of the purely team joining in with fitness challenges.
Position:
Quotes/Accounts
Steve's great with numbers – he's responsible for the quick and efficient turnaround of quotes. He also manages the accounts payable/receivable side of the business and has a 'go the extra mile' work attitude.  Manchester born and bred and a keen football enthusiast.