Business cards create both an instant and lasting impression.  A smart looking business card can speak volumes about who you are and what kind of business you like to do, and designed in the right way can convey a potent sense of character.  Simultaneously, a lack lustre business card can make you totally forgettable.  Your business card is what a potential client or customer will go back to; it is all they'll have to remind them of you, so it is imperative that you get it right.  This article will give examples of some of the most innovative business cards out there to get your creative juices flowing so you can create a card worth hanging on to.
MODhair, Rome
MODhair is a rock n' roll hair salon in Rome.  They needed a business card (above) which would instantly evoke their musical, edgy theme whilst still communicating their business as a hair salon.  The result was a business card designed in the shape of a comb.  The teeth have varying strips of plastic down their lengths so that when you brush along the edge of the comb with your thumb it plays a classic rock theme.  The card is made from black PVC with hot foil silver.
Bang Your Own Drum Stationery, UK
This business card design aimed to make Bang Your Own Drum's name stick in the mind whilst also reminding customers that they sold stationery.  The card is bright yellow with a semi-translucent circle which acts as a drum skin.  The card comes with a drumstick pencil so you can literally bang your own drum.
Lego
At Lego they don't use business cards as such; rather they take pride in their own products by using a lego person with each employees name on the front and details on the back as a business card.  The lego cards are designed to bear a resemblance to each individual employee.  It's a pretty cool design!
Lush Lawn, Michigan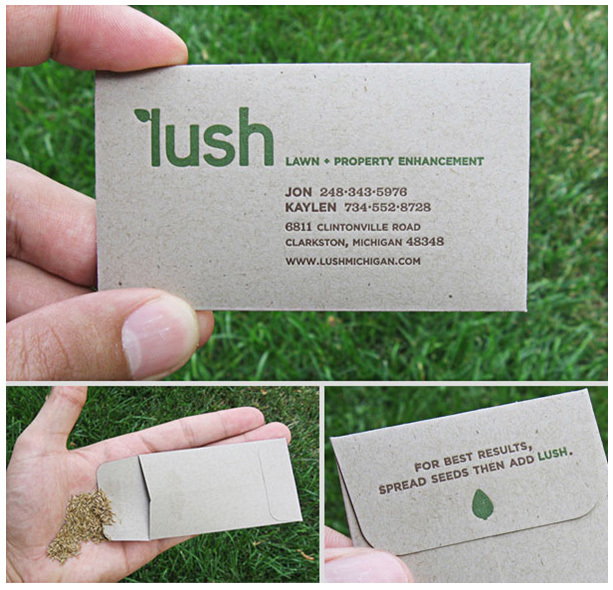 The lush lawn property enhancement business card doubles up as a seed packet to advertise their services providing lawn maintenance.  The brown packet is embossed printing and opens up to hold real life grass seeds inside.
Word Search, Graphic Designer, Brooklyn
Jose Antonio Contreras designed his business card to advertise his services as a graphic designer with a word search puzzle on the front and clues to solve the puzzle on the back using a duplex printing technique.  Cleverly, the clues are his details.
These five designs are just a sample of some really creative business card designs.  It is hoped that they've gone some way to demonstrate just how much personality the humble business card can have when designed with enough imagination and playfulness.  So if you have a clear sense of your brand identity, then make sure you come up with a creative and smartly designed business card which will immediately and lucidly communicate that to the people who matter.