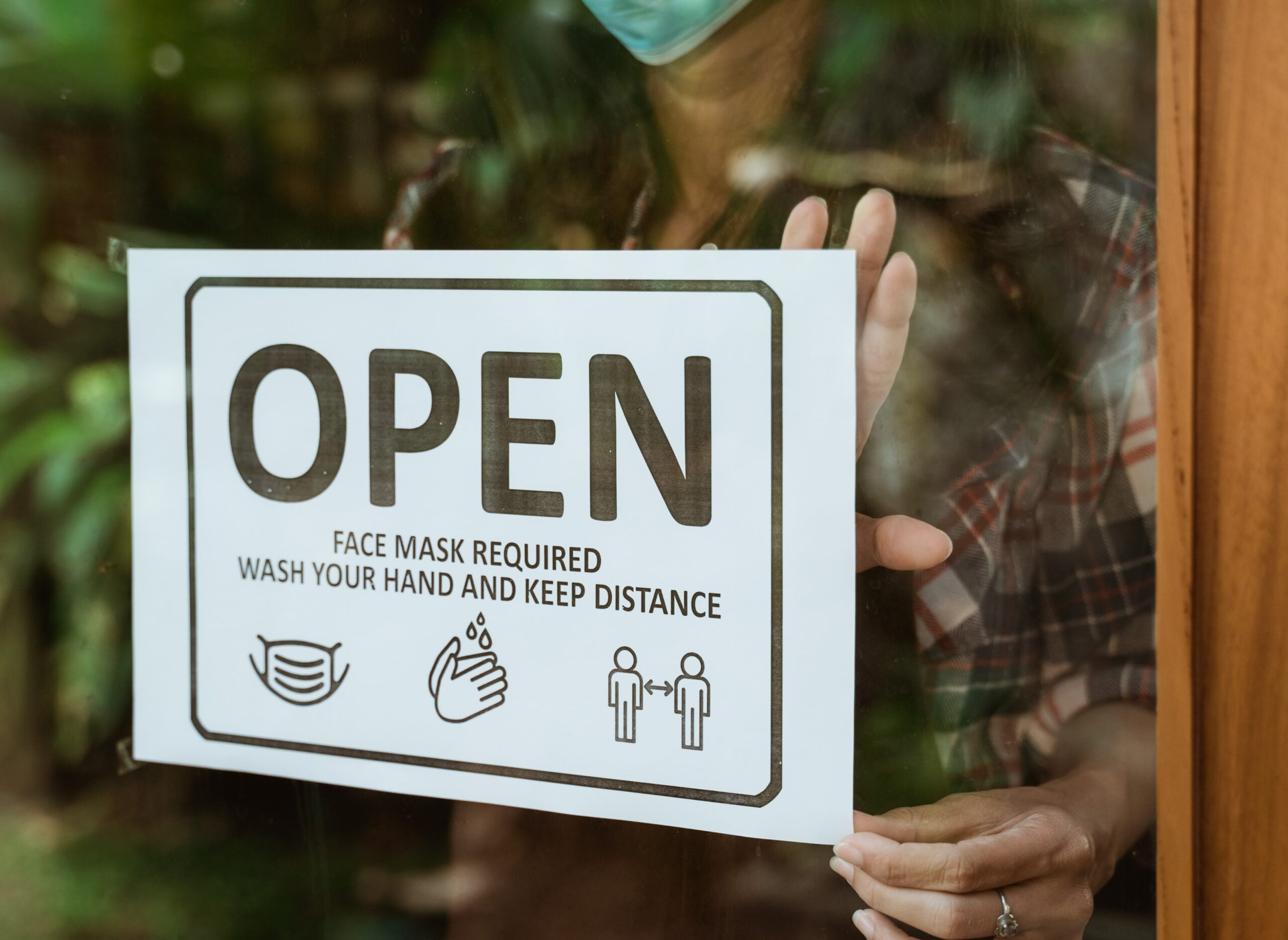 AS COVID-19 CONTINUES TO SPREAD ACROSS THE COUNTRY, BUSINESSES ARE LOOKING TO DO ALL THEY CAN TO KEEP THEIR STAFF AND CUSTOMERS SAFE, WHILE TRYING TO MAINTAIN AS MUCH OF A 'BUSINESS AS USUAL' APPROACH AS POSSIBLE.
Under the latest government guidelines, people are required to wash their HANDS often, make SPACE to allow for social distancing, and cover their FACE in certain settings. Whilst these messages are, for the most part, easy to remember, sometimes visual cues make all the difference in ensuring that the advice is being followed.
Here are just a few suggestions for how to communicate the steps you are taking to create a workspace that is Covid-safe.
Floor graphics
Before 2020, we weren't familiar with the term 'social distancing', but now it's become a new way of life. Strategically placed floor graphics can help guide people to stand or walk in certain directions or areas.
Wall graphics
The possibilities for wall graphics are endless. Whether it's large posters to remind people to wear a mask, Foamex boards asking customers to practice social distancing, or laminated instructions to demonstrate the hand washing process, there are many ways to display safety messages within your business.
You could even consider installing window stickers to share the measures you've got in place, so customers are aware before stepping foot on your premises.
Banners and signage
From roller banners to A-board signs, PVC eyelet banners to bollard covers – large, colourful, eye-catching signage is a sure-fire way to guarantee exposure of your safety precautions. These are often used to mark out specific 'zones' or one-way systems.
If you're preparing for your team's gradual return to the office, why not speak to us about our sign printing capabilities and make sure you are protecting your team and customers as much as possible.