This June, Purely's Managing Director will be cycling the 300km journey from London to Paris in support of Derby Hospitals Charity. Here Andrew Edmondson explains why this particular challenge is so important to him.
Open up your calendar and take a look at what's happening in June, and you'll find what is sure to be the biggest, most highly-anticipated sporting event in 2018. No, we're not talking about the World Cup. We are, of course, referring to the 300km-long bike ride from London to Paris led by Purely Digital's very own MD, Andrew Edmondson.
"It's actually more like a marathon than a bike ride," Andrew laughs, "but getting other people to come along is much easier when you say you're going on a bike ride."
Joined by friends across Derby's business community, Andrew will be making the trip in support of Derby Hospitals Charity — raising much-needed funds for Derby Royal's A&E Department
"In reality, I didn't need to do any convincing. When I told people what I was planning, they were more than enthused to get involved. Especially when I explained my reasons for wanting to do it in the first place."
Passionate about Derby Hospitals Charity
"As people who know me will already be aware, last year I had a heart attack. It was very out of he blue. However, I was assessed and underwent a procedure in a very short space of time.
"Thanks to the immediate actions of Derby Royal's staff and medical team, the damage to my heart was greatly reduced and my overall recovery has been much quicker than it would have been otherwise.
"Everybody knows our hospitals are under tremendous pressure, and something Derby Royal isn't budgeted for is a dedicated place where staff can visit and grab a little headspace from time to time.
"These people work in an extremely stressful, demanding environment, and it does affect them in ways most of us couldn't possibly imagine.
"There are a few areas around the hospital where staff and the families of patients can go whenever they need it, but they're in desperate need of restoration and I'd really like to be able to give them something more substantial and deserving.
"That's why I got in touch with Kerry Brady at Derby Hospitals Charity, asking everybody to donate what they can, whilst hopefully demonstrating what can physically be accomplished when you receive the proper treatment and support."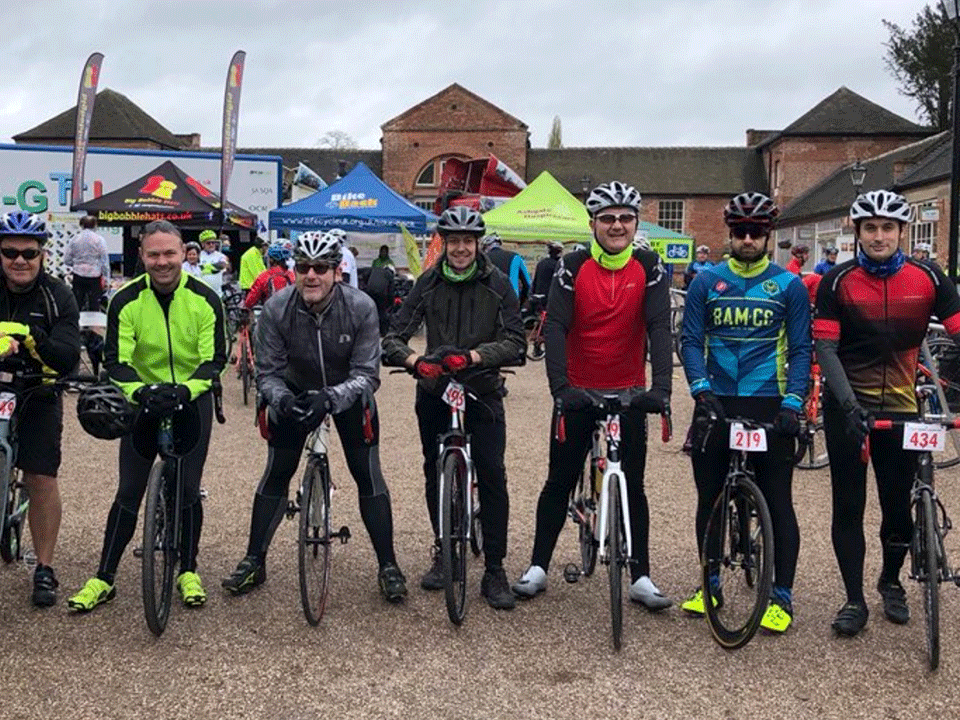 Of course, Andrew has always been a keen cyclist, and whether it was something he would be able to continue with was the first thing he asked his consultant cardiologist.
"In fact, he encouraged it," says Andrew. "Now it's something I incorporate even regularly than before, cycling to work instead of taking the regular commute — which is certainly quicker!
"I've dramatically tweaked my diet and, combined with the extra exercise, I feel fitter than ever. This entire experience has really changed my outlook..
Joining Andrew on his trip will be friends across the local business community, including Sean Price from Xuper, Chris Bastock from We Are Ghost, and Craig Barker from branding agency Koobr (main picture)
"Training is going really well. We all managed to finish last month's Cycle Derby Sportive relatively quickly (pictured above). With a little more training before June, I'm confident we'll make it to Paris in good time."
Purely's Tour de Paris
Setting off from St. Pancreas on June 15th, the group will make their way across the Channel and round-off their first day in Dieppe, France — cycling roughly 100km per day, before eventually arriving in Paris two days later.
"It's going to be a tough slog, for sure," says Andrew, "but it will be equally rewarding on so many levels.
"I've been truly inspired by all the support I've received towards my recovery from numerous medical specialists, friends, and the rest of team at Purely Digital. Making this trip will be a testament to all these great things, and the perfect way to encapsulate what has otherwise been a significantly important journey.
"If we can raise some money to give something back to our hard-working hospitals and show them how much they mean to us — well, that will make it all the more worthwhile."
Naturally, we're all very excited here at Purely Headquarters and we wish Andrew and the rest of guys the very best of luck! We'd also like to take this opportunity to thank everybody who has shown their support on social media, and for all donations already received via Andrew's Just Giving page — which you can visit here
We've still got a ways to go until we reach our £2,000 target, but there's still plenty of time for you get involved and help us get there. So please dig deep, share Andrew's story, and make some noise on social media.
Thank you.
Tags: Eco, Purely Digital, Purely Digital Eco, Purely Digital Sustainability