Custom printed vinyl flooring can bring your exhibition stand to life and help you stand out from your competitors in a busy exhibition environment! After all the admin and logistics are sorted, carefully considering the interior décor at your show is vital to ensure you make the most of your space.
Most exhibitors spend a lot of time thinking about the backdrop, shelving, display areas and items they want to showcase but completely overlook the potential of the floor area! If this is not considered part of your design, you are wasting a golden opportunity to create a complete brand experience for your customers or visitors.
Our printed vinyl flooring is printed to your exact specifications, so you can be as creative as you please. For example, perhaps your brand sells swimwear, and you'd like the floor to look like you were walking on a Caribbean beach? Or safety equipment, so you'd like the customers to feel like they were walking on scaffolding high above a building or on a rope bridge above a valley?
Where has printed vinyl flooring been used before?
Delighted customer; Doyen Tea, recently commissioned our bespoke vinyl flooring for the London Food & Drink Expo. Their flooring made customers feel like they were standing on a tea plantation, and it worked brilliantly as a talking point. "Customers commented on the creative use we had made of the floor space on our stand. It was completely different from the other vendors and gave our booth a really immersive look and feel – we are thrilled and are looking forward to using it at all our exhibitions going forward."
Creative use of the floor space can really leave an imprint on a visitor or customer, meaning you maximise the marketing space available to you and help you stand out from your competitors in a busy, cluttered trade show environment.
Hard-wearing and durable, the flooring also still looks great despite the volume of footfall, and as it can be easily rolled up and stored in between shows, it's a cost-effective solution too!
And it isn't just exhibition space that can benefit from this innovative design solution. Read on to discover how a custom-designed vinyl floor can help your business…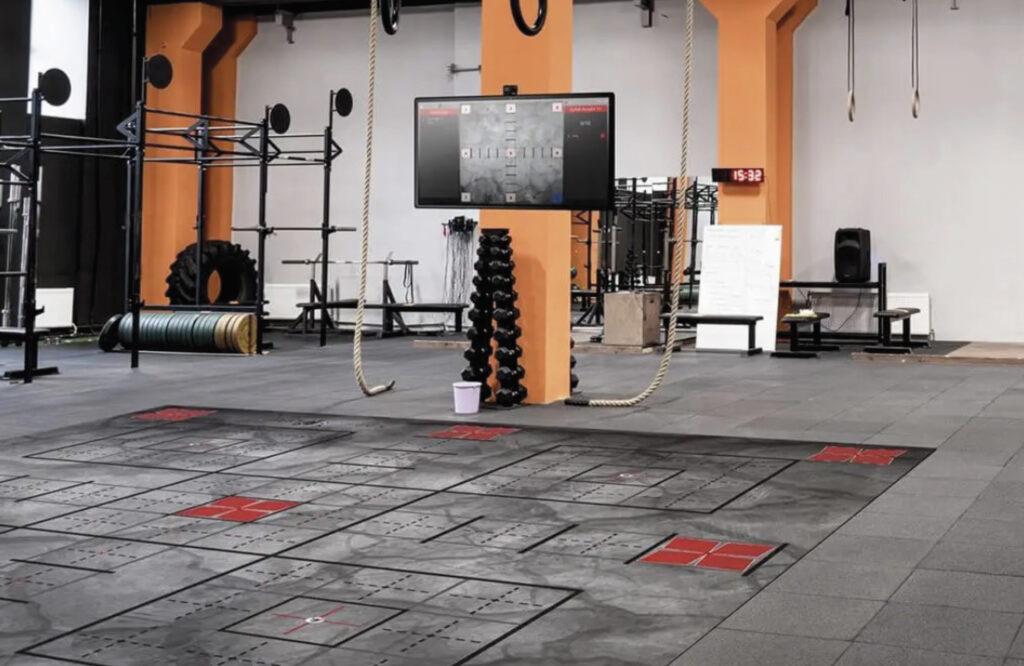 Custom printed flooring… whatever your business!
As you can see from the pictures above, this bespoke printed flooring option allows you to turn a blank canvas into something extraordinary. More examples are on our printed flooring product page, but hopefully, you get the gist… we can print the flooring to your exact specifications; you are in complete control, and the only limit is your imagination!
So where else could you use it? Where else could you turn an otherwise blank space into a remarkable and engaging marketing tool?
Bespoke flooring for Retail environments
Make every inch of your retail environment work for you by transforming the otherwise blank floor space into something eye-catching! For the shop floor or perhaps even your shop window, creative use of the floor space helps not only enhance the products you have on offer, but also the overall shopping experience for customers, contributing positively to their understanding of your business! This could also be utilised in shopping centres, cinemas or outdoor areas to grab attention or advertise your brand.
Museum Exhibition and Gallery spaces for custom flooring
Personalised vinyl flooring for museum and gallery spaces can really help create the staging for your display. It can also be the perfect way to guide visitors in a particular direction around your exhibit or separate specific sections and zones…. A great alternative to using floor tape! Not only will it look spectacular, but this type of printing also helps to contribute to the overall experience of your customers or visitors. Don't worry; a custom printed vinyl floor does not mean you are stuck with it for life. On the contrary, that is the beauty of it. These floors can be used for travelling or temporary exhibitions and can be easily rolled up and stored between uses.
Set design for Events, Stages, Films & TV
Our flooring can also be used as part of a set design to help create the look of a particular scene or brand a staging setup… the options are limitless! The flooring is robust, anti-slip, flame retardant and can be rolled up and stored if you are sharing show space with other artists or productions.
Directional flooring for Hospitals and Healthcare
Our flooring is anti-bacterial, flame retardant and anti-slip! Perfect for healthcare facilities which are often vast and complex buildings that are difficult to navigate for patients. Utilising our flooring to help mark out waiting areas or different zones can be an invaluable tool for those who perhaps would otherwise struggle to read signage. Graphics, logos, colours, images and text can all be used to help define areas, offer directions, or perhaps provide some welcome fun for children to play on whilst waiting for appointments. 
Promote your brand with printed vinyl flooring
Great marketing can really make your business grow in the 21st century. You want to create eye-grabbing promotional brand materials that help you stick in the mind of your customers. There's no point in delivering an excellent product or service if no one knows about it!
Talk to Purely Digital about custom printed vinyl flooring
Have a vision of what you want your flooring to look like? Talk to us at Purely Digital, and we can talk you through the brief of what we need. If you need inspiration, head to the bespoke vinyl flooring page. However, if you just want more details, fill out the form on our contact page or call us on 01332 299553.